Veymont retains the right to change the itinerary if necessary as stipulated in our GTC.
DAY 1 - Arrival in Girona
We welcome you at Barcelona airport at 2 pm and drive you at your ideally located hotel in the historical center of the charming Girona.
After a bike fitting and a tour oriention, we will enjoy the beauty of Northern Catalonia's largest city. Girona is a jewellery box of museums, galleries and Gothic churches, strung around a web of cobbled lanes and medieval walls Girona's wealth in medieval times produced many fine Romanesque and Gothic buildings that have survived repeated attacks, while a Jewish community flourished here until its expulsion in 1492
Night in : Girona
Meal included: Dinner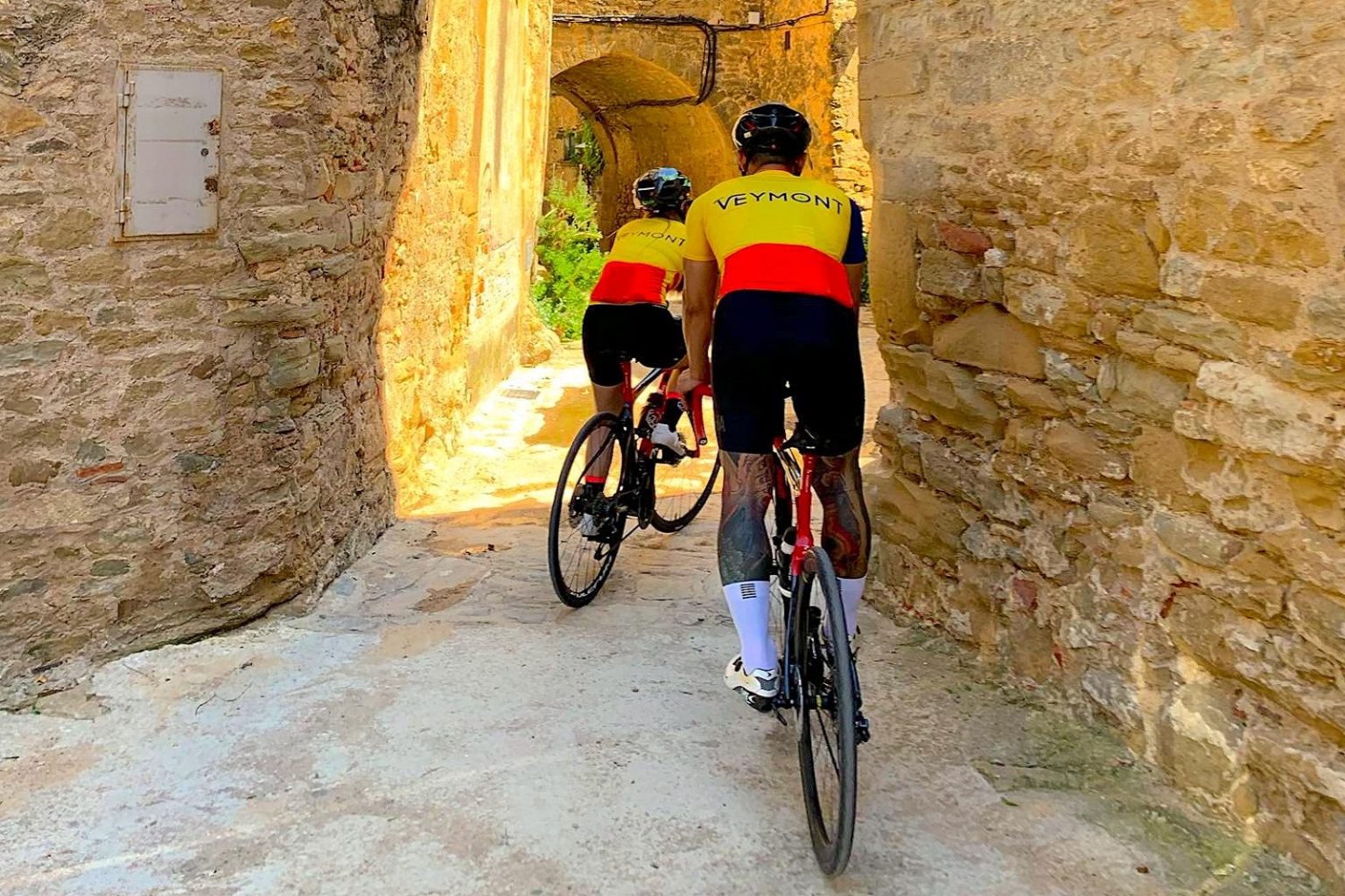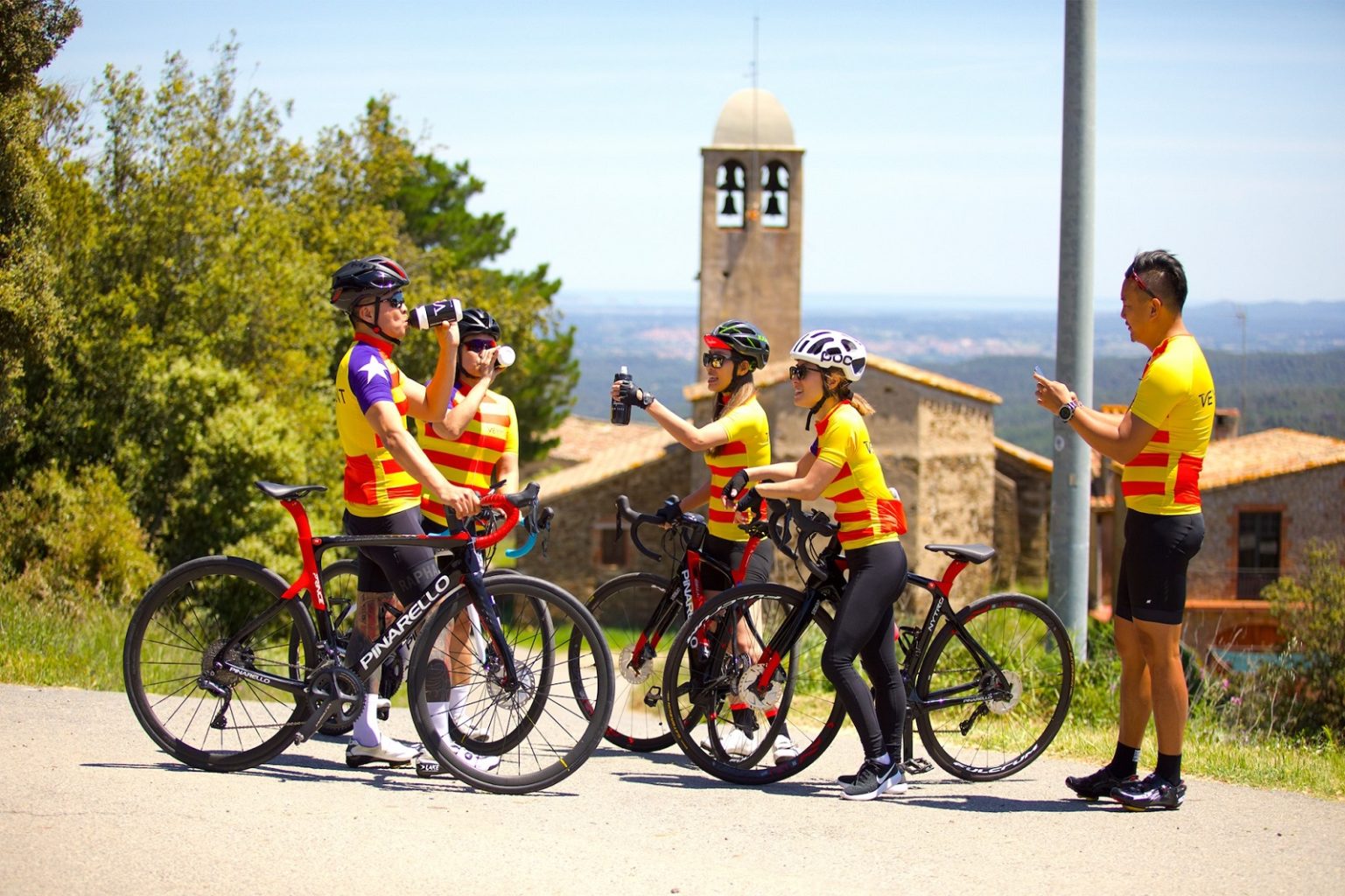 Els Àngels is a classic climb that's part of a popular cycling loop from Girona. The route was made famous by Lance Armstrong: locals say he loved it for a short high-intensity training ride. It takes in two climbs with a nice respite in the middle.
Riding doesn't get much better than this: peaceful, rolling roads with hardly any traffic, pretty woodland , medieval villages, and ancient churches..
At the end there is a lovely winding road that takes you up to the hilltop Santuari dels Angels, the chapel where Salvador Dali and Gala got married in secret in 1958.
Route  : 66 km / 930 m D+
Night in Girona
Meals included:  Breakfast – Lunch – Dinner
DAY 3 - Girona to Cadaques
Today we are riding towards the Mediterranean with Cadaques as our target. We climb Els Angels from the other side and then roll down to the coast through pretty Catalan villages. In Sant Marti d'Empuries we can relax on the beach and admire the view over the Rosas' bay. You can either stop your ride here or add 50 km more and keep going towards Cadaques where we'll stay for two nights in a beautiful hotel with sea view in the center of the village. 
The charming fishing village of Cadaques stands in a delightful site, to the south of the Cap de Creus. It is linked to Roses by the Perafita road, which commands stunning views of the Ampordà, Gulf of Roses, French coast and the hills behind Cadaqués. Its picturesque streets and bohemian atmosphere, which made it a popular haunt for artists and intellectuals in the first half of the 20C, the most famous of whom was undoubtedly Salvador Dalí, continue to appeal today.
Route 1 : 58 km / 580 m D+
Route 2 : 106 km /  950 m D+
Night in Cadaques
Meals included:  Breakfast – Lunch – Dinner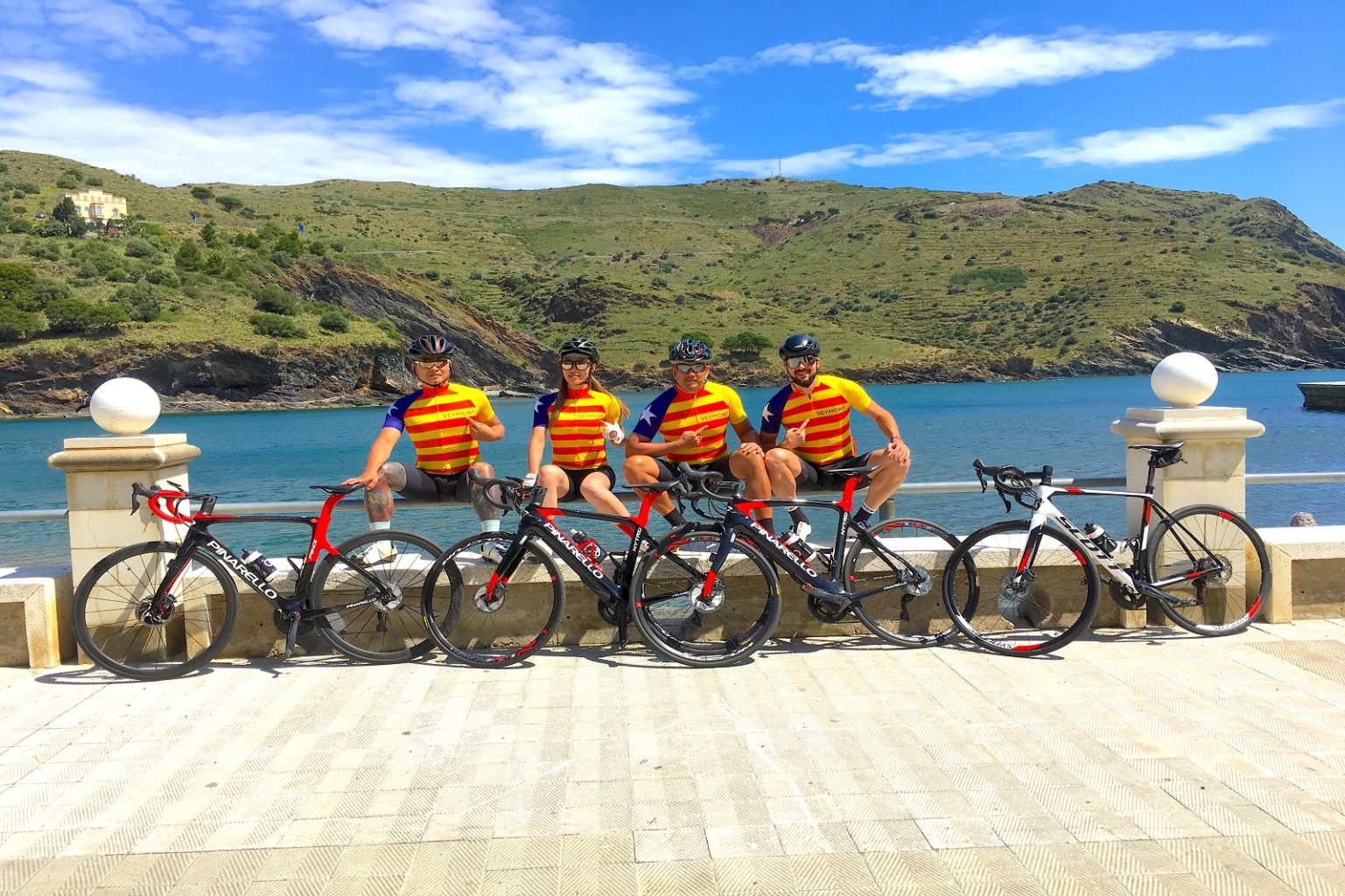 DAY 4 - CAP DE CREUS & SAN PERE DE RODES LOOP
This morning we ride towards Cap de Creus by a lonely, 8km-long road that winds its way northeast from Cadaqués through the moonscapes. Declared a nature reserve in 1998, Cap de Creus is the easternmost point of the Spanish mainland, and a place of sublime, rugged beauty, battered by the merciless tramuntana wind. With a steep, rocky coastline indented by coves of turquoise water, it's an especially magical spot to be at. 
We then ride towards low-key El Port de la Selva, 13km northwest of Cadaqués. The place doesn't immediately turn heads. But with its harbour of bobbing yachts and brooding mountains visible from the shore, it makes a pleasant stop on a ride around northeastern Catalonia. The village is almost as white as Cadaqués and the site, remarkable, is dominated in the distance by the former Monastery of San Pere de Rodes that we are about to climb. The road is gorgious. Views of distant Pyrenean peaks and the deep-blue Mediterranean combine with a spectacular piece of Romanesque architecture at this hillside monastery, 500m up in the hills 7km southwest of El Port de la Selva. Founded in the 9th century, it became the most powerful monastery in the county of Empúries. 
Route 1 : 18 km / 580 m D+
Route 2 : 61 km /  1375 m D+
Night in Cadaques
Meals included:  Breakfast – Lunch – Dinner
DAY 5 - Cadaques to Collioure
On the way to the border with France, we leave the Spanish Catalonia for the French Catalonia. We ride along rocky coves, small fishing ports and terraced vineyards on the hillside. The Mediterranean coast from Cadaqués to Collioure undulates in capes and coves: Llança, Colera, Col de Frare, Col des Balitres and Cervera Cape. 
We then reach Collioure where we'll spend the next two nights in the best hotel in town with stunning views once more. 
A fortified church, advancing so close to the coast that you would think it appeared from the sea, two small ports separated by the old royal castle, with their brightly coloured Catalan boats and typical masts that are about to set sail to fish for the famous anchovies, old streets with flowered balconies, interspersed with staircases, a promenade by the sea, terraces of cafés and shops with coloured windows, that is the enchanting setting of Collioure ! 
Route  : 61 km / 1025 m D+
Night in Collioure
Meals included:  Breakfast – Lunch – Dinner
DAY 6 - COLLIOURE LOOK-OUTS
Our last ride, although short, will take us up to the heights of Collioure to pass at the foot of the Madeloc Tower along a spectacular tiny mountain road, which from its 650 m altitude, will offer us an exceptional panoramic view of the Côte Vermeille, the terraced vineyards, fruit trees, pine forests and the charming village of Collioure. Don't miss it for anything ! 
This afternoon we will be wine tasting and chilling by the beach and by artists' shops in Collioure's colourful streets.
Route : 39 km / 840 m D+
Night in Collioure
Meals included:  Breakfast – Lunch – Dinner
Day 7 - Day off in Barcelona
Today no biking scheduled as we drive to Barcelona and explore one of Spain's most attractive and cosmopolitan cities, offering a perfect blend of tradition and modernity, art and history, and culture and dynamism. Admire its astonishing Modernist buildings, superb museums and contemporary art foundations, majestic Gothic churches, cutting-edge design, stunning views and captivating hidden corners.
Night in Barcelona
Meals included: Breakfast – Dinner
It is unfortunately already time to say goodbye. We will take you back to Barcelona airport after breakfast to end this bike trip in Catalonia, unless you want to extend your cycling holidays and bike in Portugal with Veymont.
Meal included: Breakfast