Veymont retains the right to change the itinerary if necessary as stipulated in our GTC.
DAY 1 - Arrival in Cognac
We welcome you at Angouleme TGV at 2 pm and drive you at your hotel in Cognac where we'll stay for three nights. After a bike fitting and a tour orientation, we explore this unique town settled along the Charente river. 
How many small French towns can boast, like Cognac, of being famous all over the world? Rich, bourgeois, historical, royal (François 1st was born there), Cognac is a special case in Charente. Today labelled a City of Art and History, it displays its heritage all the more clearly. But Cognac remains above all the city of the precious beverage where the great names (Hennessy, Otard, Martell, Meukow, Camus, Remy Martin) of the reputation of the town ! Wherever roofs and walls are blackened, it is the action of a fungus feeding on alcohol vapours, the famous angels' share!
Night in Cognac
Meal included: Dinner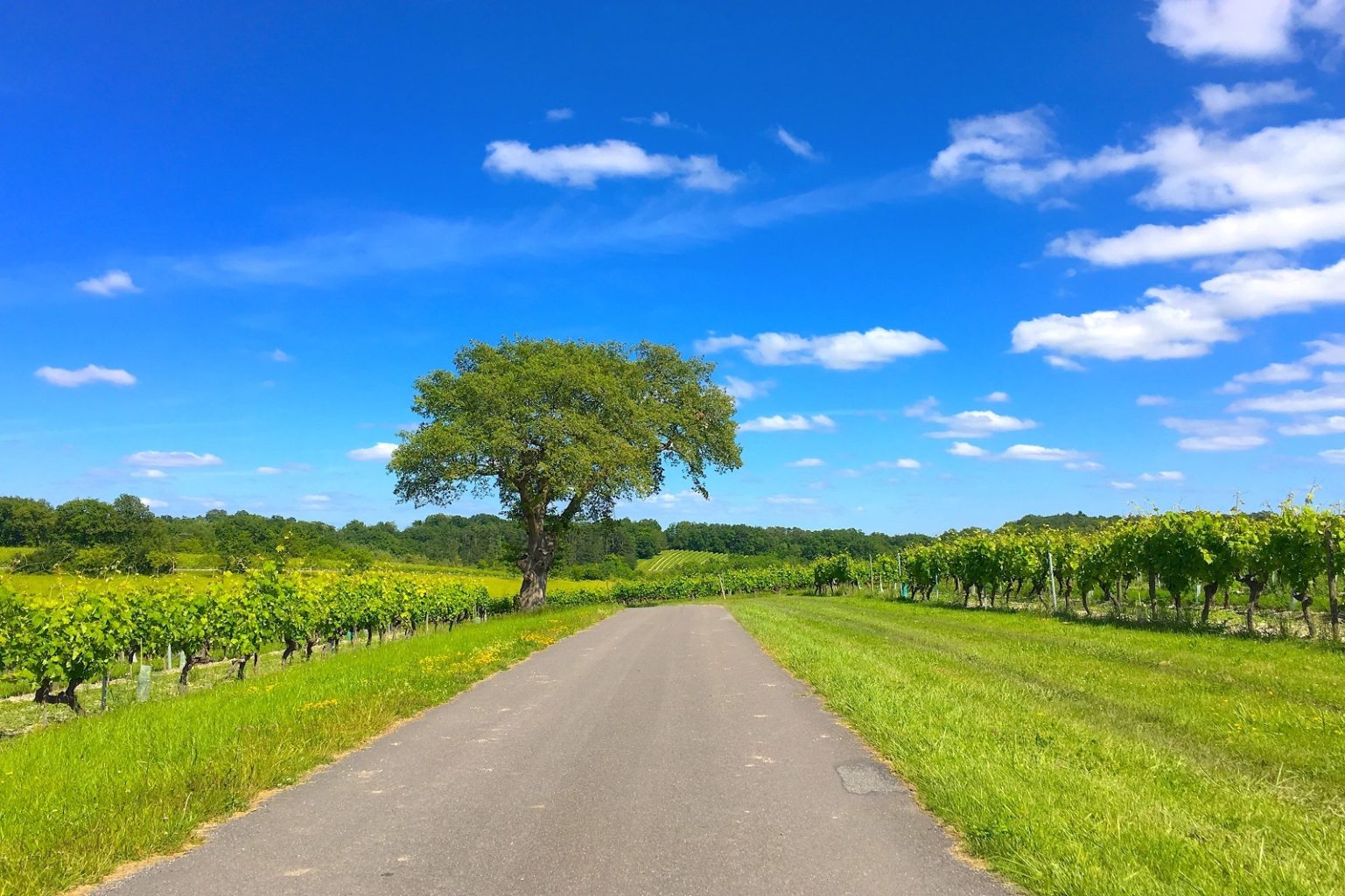 Todays let's explore the Cognac terroir on our bikes, the well name "Grande Champagne" area. very often compared to Italian Tuscany. It is a country of nature, with open landscapes, changing with each turn, carved with hills jostling in all directions on which hangs a vineyard cultivated like a garden by the men who cultivate it.
The stone heritage is omnipresent. Many of the country's dwellings and beautiful ashlar houses punctuate the landscape. Their architecture in the courtyard, closed by a high carved porch, preserves the secrets of cognac. Discover at your own pace the villages of Lignières-Sonneville, Touzac, Bouteville and Segonzac. The rural heritage is rich with Romanesque churches, temples, mills, fountains, washhouses, dolmens… each old stone will have an anecdote to tell you! Come and meet the producers: all passionate, they will know how to tell you about their land and their trade better than anyone else!
This afternoon we will visit the cellars and distillery of a large trading house in Cognac, which allows us to enter the intimate world of a great cognac name and offers an unprecedented sensory experience.
An unsuspected terroir of the Cognac region but so authentic that we invite you to come and discover it.
Route 1 : 61 km / 610 m D+
Route 2 : 70 km / 675 m D+
Night in Cognac
Meals included:  Breakfast – Lunch – Dinner
DAY 3 - Cognac - Angouleme
This bike ride is dedicated to the alternation: between Cognac and Angoulême, we discover a land of history, a land of cocagne: the banks of the Charente river. Very few industrialized, full of greenery and calm, with charming landscapes: curves of the river, impeccably clean slopes embroidered with rows of vines, stone bridges, peaceful farms, all nestled in amber light. Not to spoil anything, there are many curiosities. We stop almost every kilometre to visit something: the Gabarier village of Saint-Simon, the Abbey of Bassac, the typical Charente villages of Vibrac and Saint-Simeux, the smiling and discreetly prosperous town of Jarnac where the first brandy merchants were established in 1610 and where you can visit the Cognac house of Courvoisier, leaning against an imposing 19th century castle.
We finally reach Angouleme and its upper city, almost curled up on a plateau perched above the Charente, and beat the old pavement by immersing ourself in very old alleys tightly packed around pretty plots. The brightness of its light, its successful architecture with its stone houses with tiled roofs and its café terraces make Angouleme a charming and pleasant city.
Angouleme is also known worldwide for its international comic strip festival, which takes place every year in January. But don't be disappointed if you miss the event, because here, it's all the architecture that lives to the rhythm of the comic strip: monuments, mailboxes, buses… Even the street signs are in the shape of bubbles! As you stroll through the streets of Angouleme, you will be surprised by the originality of the city's walls. The painted walls are real works of art. 
We then take the van toenjoy our last night in Cognac.
Route  : 58 km / 260 m D+
Night in Cognac
Meals included:  Breakfast – Lunch – Dinner
DAY 4 - The Gironde estuary
This morning we head to the Gironde estuary, the largest in Europe, a world of steep (but inhabited!) cliffs and fishermen living in stilt-walk huts. It is this road that we will follow from Mortagne-sur-Gironde, a village perched on a cliff, quiet and with a picturesque little port.
We quickly reach Meschers-sur-Gironde, a village located on a limestone plateau overlooking the estuary. The waves beat cliffs about thirty meters high and pierced by cave dwellings.
Then we arrive in Talmont-sur-Gironde on an exceptional site, labelled "Most beautiful village in France" and constitutes the pearl of the estuary. This village, perched on a peninsula, is nothing more than flowered alleys and small houses with pastel shutters. To keep things simple, there is one of the most beautiful churches in the region, built in 1094, in balance at the very end of a rocky promontory that plunges into the estuary.
We finally reach our hotel in Vaux-sur-Mer on the Atlantic Ocean after crossing Royan and its Belle Epoque districts
Route : 40 km / 330 m D+
Night in Vaux sur Mer
Meals included:  Breakfast – Lunch – Dinner
DAY 5 - Vaux-sur-Mer - Rochefort
We offer you today a royal stage along a cycle path that winds through the wild coastal forest and serves pretty beaches, the smell mixed with sea spray and pines. We then cross Marennes, the first oyster farming basin in Europe and its salt marshes, before reaching Brouage by small canals in the middle of an abundant ornithological fauna. Once bordered by the Atlantic Ocean, the fortified city of Brouage has recently become part of the very exclusive club of the "Most Beautiful Villages in France". Nestled in the heart of a marsh that extends over 3,000 hectares, with its ramparts more than two kilometres long, its oyster port, its shops for creators and craftsmen and its many buildings steeped in history transformed into exhibition spaces, Brouage remains an ideal destination. 
We finally reach Rochefort that Louis 14th himself chose in the 17th century and ever since, the town has built itself around "the most exceptional Naval Dockyard" of the French coast. Symbolic place for maritime history, Rochefort saw the birth and rebuilding of the frigate Hermione on the same site, just next to the Corderie Royale. 
Route 1 : 57 km / 140 m D+
Route 2 : 75 km / 190 m D+
Night in Rochefort
Meals included:  Breakfast – Lunch – Dinner
DAY 6 - DAY OFF IN Rochefort LA ROCHELLLE
We will enjoy the day to discover all the riches of La Rochelle on this well-deserved day of rest. Resolutely oriented towards the ocean and its resources, La Rochelle has always been able to take advantage of its geographical location. Rebellious and rebellious, relying on an old maritime tradition, it has passed through the ups and downs of a turbulent history with dignity, from which it has emerged rather grown. The towers of its famous port testify it !
We then cross the ocean over a beautiful bridge and drive to our hotel on the Ile de Ré where we will stay until the end of the tour.  We stay in Saint-Martin-de-Ré, the historic capital of the island. We like to stroll around its picturesque and lively port, surrounded by a star-shaped enclosure. Classified as a UNESCO World Heritage Site, the Vauban fortifications were built by Louis 14th to protect himself from English invasions around 1680.
Night in Saint-Martin-de-Ré
Meals included:  Breakfast – Dinner
We get on our bicycles for an easy day exploring the Île de Ré, the pearl of the Atlantic islands. With its seascapes, salt marshes and the poetry of its colourful ports, it boasts a remarkable historical heritage. To discover it, nothing beats letting yourself be carried away by its cycle paths so we bike across pretty villages such as La Flotte, and Ars en Ré, both cassified as "Most Beautiful Villages in France". 
We also reach the far west of the island at the Phare des Baleines. It owes its name to the many whales that have passed through there since ancient times. Culminating at 57 m, it offers a breathtaking panoramic view of Île de Ré and the beach of La Conche where the film "The Longest Day" was shot.
Route 1 : 45 km / 90 m D+
Route 2 : 54 km /  115 m D+
Night in Saint-Martin-de-Ré
Meals included:  Breakfast – Lunch – Dinner
It is unfortunately already time to say goodbye. We will take you La Rochelle TGV or airport after breakfast to end this Cognac & Atlantic Coast bike tour, unless you want to extend your biking holidays and bike the Loire Valley or Bordeaux & Dordogne bike tours with Veymont, 
Meal included: Breakfast