Veymont retains the right to change the itinerary if necessary as stipulated in our GTC.
DAY 1 - Arrival & Loop ride to Bormes les mimosas
We welcome at Marseille airport this morning at 9 am before driving you to your hotel in Rayol-Canadel-sur-Mer. After a bike fitting and a tour orientation, we ride along the Corniche des Maures for about fifteen kilometres and then join the Route des Vins de La Londe and the famous Fort de Bregançon before getting to the old village of Bormes-les-Mimosas, which lies on a hillside between the sea and the forest. Its alleys, which smell of plants from diverse and distant origins, are hidden by the pink tiled roofs of the old houses. 
Route 1 : 44 km / 710 m D+
Route 2 : 67 km /  910 m D+
Night in Rayol-Canadel-sur-Mer
Meals included:  Lunch – Dinner
DAY 2 - Biking to SAINT-Tropez
This morning we set off on a journey along the east coast of the Massif des Maures. Further on, the old Provencal villages of Ramatuelle and Gassin (classified as one of the most beautiful Villages in France) stand on our way, isolated on their hills of scrubland and vineyards and offering a unique panoramic view of the Bay of Pampelonne, the peninsula and the Gulf of Saint-Tropez.
We reach Saint-Tropez at the end of the morning, leaving us all the time to discover this picturesque fishing port, its old village, its fish market and its regattas. The city reveals all its off-season charms, when deserted by the crowds, an exceptional luminosity, which seduced Matisse and many other painters, seizes the colourful facades of the old village. On the quays of the old port rival some of the most beautiful yachts on the planet.
After a part of Tropézienne, it is up to you to choose whether you want to join the hotel on your bike or to take your time exploring Saint-Tropez.
Route 1 : 39 km / 610 m D+
Route 2 : 64 km /  850 m D+
Night in Rayol-Canadel-sur-Mer
Meals included:  Breakfast – Lunch – Dinner
DAY 3 - Cycling to Grimaud via the Massif des Maures
Today we are riding on the very winding ridge roads of the wild Maures. Under the thick forest mantle of this massif, one of the jewels of the Var department, chestnut trees and hundred-year-old cork oaks reign as masters and in its heart, a few villages live peacefully.
After 70 km, we reach Grimaud, a perched Provencal village overlooking the Gulf of Saint-Tropez. With its charming squares and alleys, Grimaud invites you to stroll and could well be the end of the day unless, in a final effort, we decide to pedal the 25 km that still separates us from our hotel.
Route 1 : 68 km / 1200 m D+
Route 2 : 93 km /  1520 m D+
Night in Rayol-Canadel-sur-Mer
Meals included:  Breakfast – Lunch – Dinner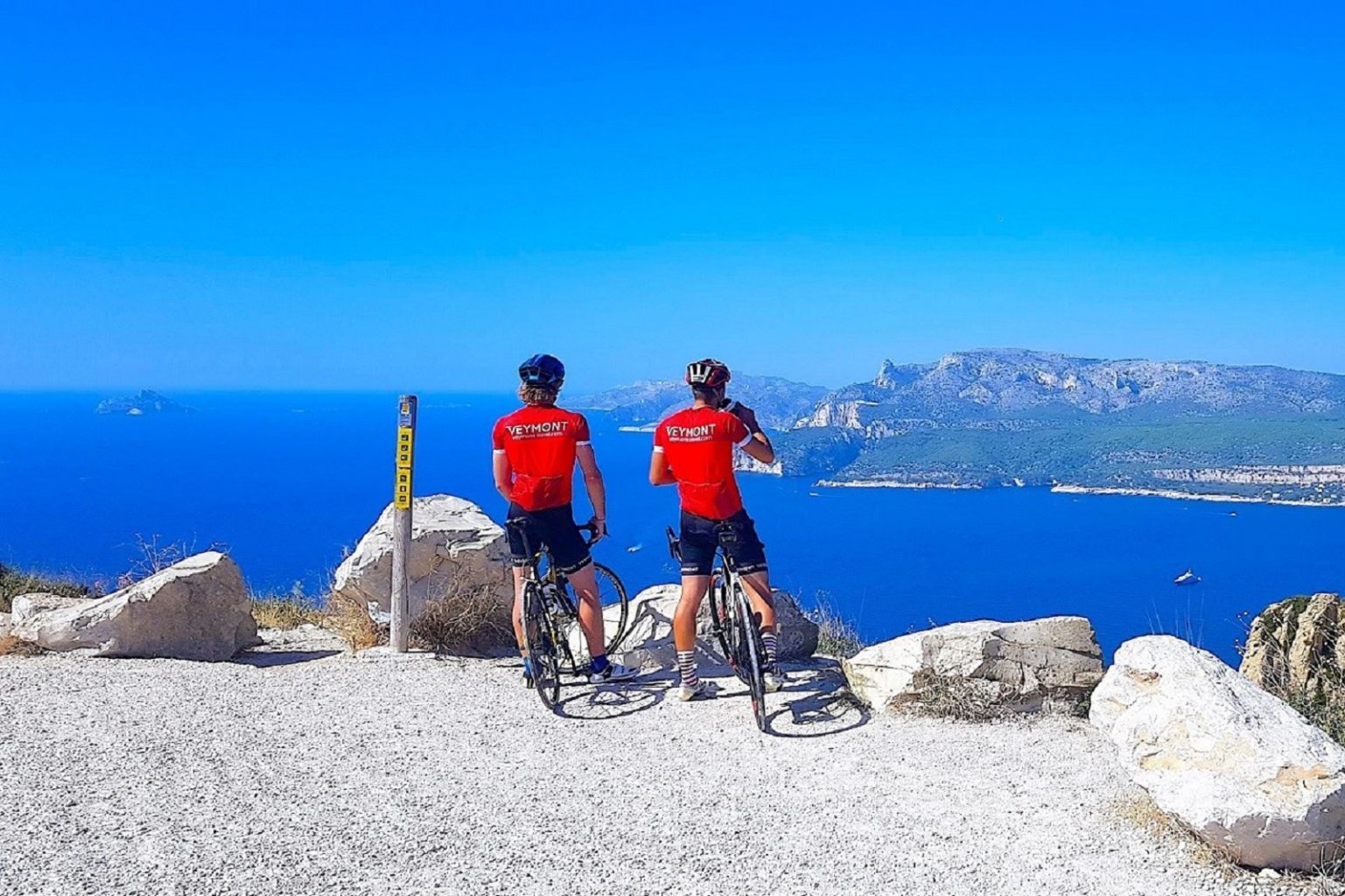 It is unfortunately already time to say goodbye. We will take you back to Marseille airport or TGV after breakfast to end this French Riviera Bike Camp, unless you want to extend your cycling holidays  with Veymont along the French Riviera or in Provence.
Meal included: Breakfast