Veymont retains the right to change the itinerary if necessary as stipulated in our GTC.
DAY 1 - Arrival in Basel, SWITZERLAND
We meet you to Basel-Mulhouse airport at 2 pm before taking you to our hotel in the center of Basel. We take advantage of this first day to adjust our bikes and talk about the tour and explore Basel, the third largest city in Switzerland by its population. This place is a city in full cultural turmoil. Its forty museums, its university, the oldest in Switzerland, and its taste for design and contemporary art in a trendy city, dynamic, but also aware of the wealth of its heritage and standing.
Night in : Basel, Switzerland
Meal included: Dinner
This getaway full of surprises around Basel follows empty back roads of the Baselbiet area. The change of scenery is on the agenda of this tour.
You will start through the old town along the Rhine. Then the path rises through green hills and forests, In Liestal, the capital of the Canton of Basel-Landschaft, a visit to the lively historic old town is a must. This ride is particularly interesting in May when the many open-wind trees are in bloom.
Route 1 : 58 km / 820 m D+
Route 2: 68 km / 970 m D+
Night in Basel, Switzerland
Meals included:  Breakfast – Lunch – Dinner
DAY 3 - BAsel - Freiburg im B.
Our cycling trip leads us today through the Markgraferland, nicknamed the Tuscany of Germany for its mild and sunny climat, and part of the Baden Wine Route. It runs through a welcoming, hilled landscape composed mainly of meadows, orchards and vineyards.
Later on we reach Freiburg-im-Breisgau, which exudes a unique sweetness of life, at the foot of the Black Forest hills, with its village tunes with cobbled streets in the old center. Capital of ecology, a pioneer in solar energy and energy-saving architecture, the city seems at the same time full of future.
Route 1 : 57 km / 650 m D+
Route 2 : 75 km /  850 m D+
Night in Freiburg im Breisgau, Germany
Meals included:  Breakfast – Lunch – Dinner
DAY 4 - Black Forest Loop
The Black Forest Panoramic Route is a mountain road that runs mainly along the green peaks of the Black Forest. From the beginning, you will have to conquer the curves that follow each other up to the Kandelpass (1242 m with a breathtaking view at the top). This itinerary includes many views of the Black Forest valleys, which we will discover from one detour to another. After all, it is not always a question of getting from point A to point B as quickly as possible: you have to get there in the best possible way! You will finish your ride at Titisee, the largest natural lake in the Black Forest unless you want to ride back to Freiburg.
Route 1: 36 km / 440 m D+
Route 2: 64 km / 1520 m D+
Route 3: 105 km / 1900 m D+
Night in Freiburg im Breisgau, Germany
Meals included:  Breakfast – Lunch – Dinner
DAY 5 - Freiburg im B. - COLMAR
The Kaiserstuhl, a small volcanic massif (557 m), called "throne of the emperor"  is famous for its sunshine. As a result, it has become a land of choice for fruit trees and vines. Award-winning viniculture is the dominant characteristic of this region. With picturesque wine villages, quaint little towns and breathtaking panorama, today's route is a real hidden cycling treasure.
Route 1: 48 km / 400 m D+
Route 2: 74 km / 500 m D+
Night in Colmar, France
Meals included:  Breakfast – Lunch – Dinner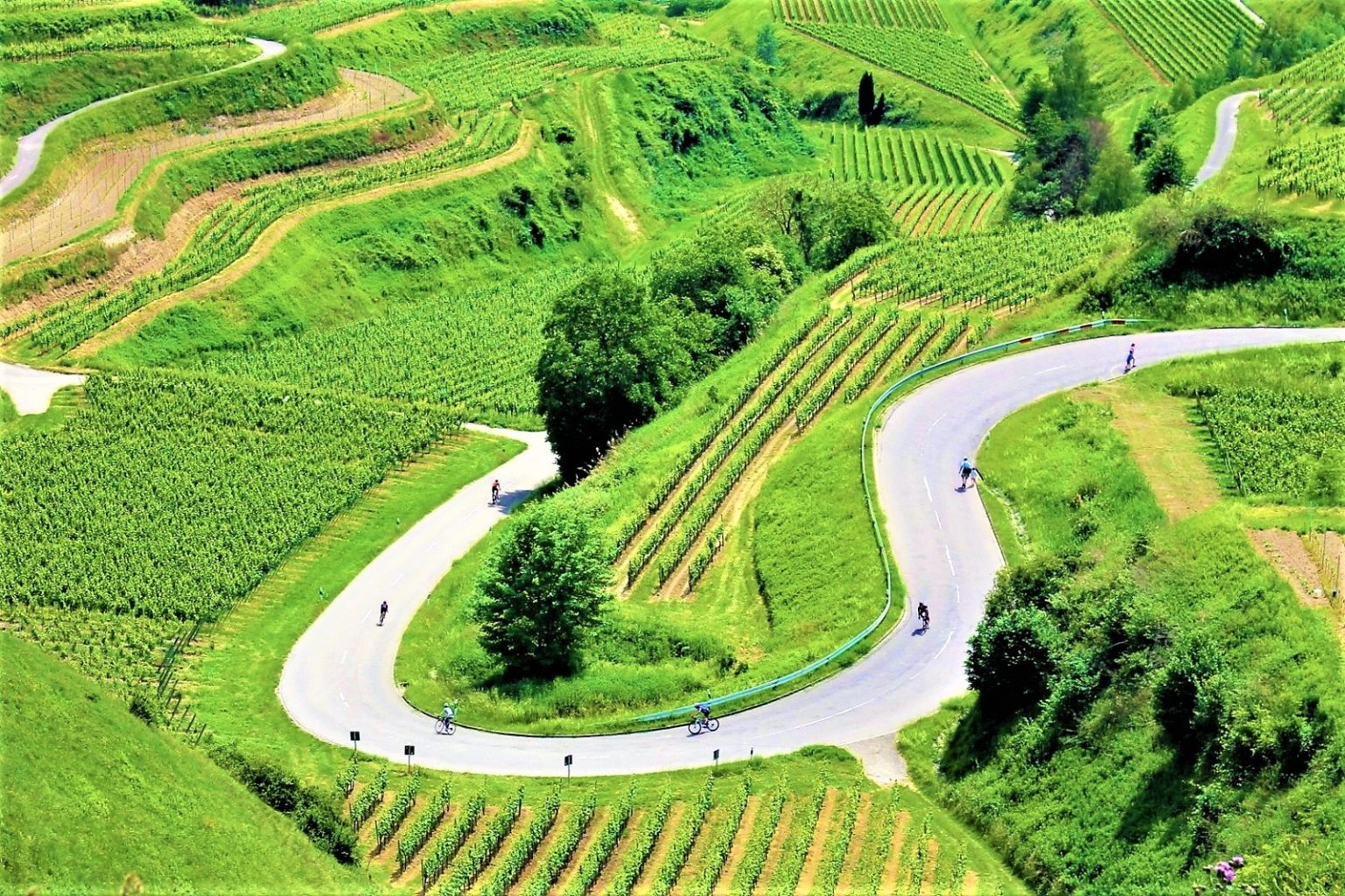 DAY 6 - Day off in Colmar
Whether you visit the Colmar on foot or by boat on the canals of "Little Venice", its fountains, its half-timbered houses, its geraniums balconies say everything about its membership of Alsace … But Colmar can not be summed up to its postcard décor. Cultural hub and Gastronomic step, it is also a good starting point towards the wine route.
Optional ride possible
Night in Colmar, France
Meals included:  Breakfast – Dinner
Day 7 - Colmar - Ribeauville
Today we enter the heart of the Alsace Wine Route. You will sail in an ocean of vineyards and through some of the most beautiful villages of France: Eiguisheim, Kayersberg, Riquewihr and Ribeauvillé. These magnificent villages have for centuries combined the quality of their architecture with that of their world-renowned wines. Riquewihr, one of Alsace's most popular places to visit, is an "open-air museum" that has managed to preserve its authenticity, behind its surrounding walls that only vines now besiege. Tonight and tomorrow we spend the night in Ribeauvillé, ideally located to explore the most beautiful roads and villages in this region of character.
Route 1: 30 km / 500 m D+
Route 2: 48 km / 920 m D+
Night in Ribeauvillé, France
Meals included: Breakfast – Lunch – Dinner
DAY 8 - Haut-Koenisgsbourg Loop
This morning we tackle the slopes of the Chateau du Haut-Koenigsbourg. This surprising stone vessel dominates the immense horizon from the top of its 750 m of altitude and made it possible to monitor all the roads crossing Alsace and Lorraine. 
And to recover from our emotions, we stop at the Cave de Ribeauvillé. We take the time to taste and appreciate the finesse and elegance of Alsatian wines: Riesling, Muscat, Pinot Gris, Gewurztraminer… In short, you have understood,  that the hotel being not very far away is quite fortunate !
Route 1: 35 km / 780 m D+
Route 2: 54 km / 1200 m D+
Night in Ribeauvillé, France
Meals included: Breakfast – Lunch – Dinner
Day 9 - Ribeauville - Strasbourg
For this last ride, we cycle straight to Strasbourg along the second part of the Alsace Wine Route and through Obernai, an essential stop on the wine route thanks to its particular charm that emanates from its medieval and Renaissance centre. 
But we can also detour and encounter in the middle of the forest, the holiness of Mont Saint Odile that inspires believers. The pink sandstone cliffs serve as a pedestal for a convent composed of a convent church, four chapels and a terrace from which a large part of Alsace can be discovered. The famous pagan wall is a colossal work of art with a mysterious origin.
Seat of the European Parliament and the Council of Europe, Strasbourg is one of the two European "capitals". An avant-garde city since the Middle Ages, it has succeeded in aesthetics and environmental protection, thanks to the choice of trams and bicycle paths, and has maintained a human size around its cathedral Gothic and its old quarter La Petite France.
Route 1: 58 km / 850 m D+
Route 2: 94 km / 1000 m D+
Night in Strasbourg, France
Meals included: Breakfast – Lunch – Dinner
It is unfortunately already time to say goodbye. We will take you back to Basel-Mulhouse airport after breakfast to end this bike tour along the Rhine Valley and , unless you want to extend your cycling holidays and bike the Champagne & its WWI Battlefields with Veymont.
Meal included: Breakfast