Veymont retains the right to change the itinerary if necessary as stipulated in our GTC.
DAY 1 - Arrival in Saint-Tropez
We will meet you at Marseille-Provence airport at 2 pm before taking you to your hotel in Saint-Tropez. We take advantage of this first day to adjust our bikes, discuss the stay and explore the village, its picturesque fishing port, its old town, its fish market and its regattas. The city reveals all its off-season charms, when deserted by the crowds, an exceptional luminosity, which seduced Matisse and many other painters, seizes the colourful facades of the old village. On the quays of the old port rival some of the most beautiful yachts on the planet.
Night in : Saint-Tropez
Meals included: Dinner
DAY 2 - Saint-Tropez Loop
This morning we set off on a short journey towards the old Provencal villages of Ramatuelle and Gassin (classified as one of the most beautiful Villages in France) isolated on their hills of scrubland and vineyards and offering a unique panoramic view of the Bay of Pampelonne, the peninsula and the Gulf of Saint-Tropez before cycling back to the hotel and enjoying a slice of Tropézienne in  the old town or by the beach.
Route  : 35 km / 500 m D+
Night in Saint-Tropez
Meals included:  Breakfast – Lunch – Dinner
DAY 3 - Saint-Tropez - Rayol
Today we are riding on the very winding ridge roads of the wild Maures. Under the thick forest mantle of this massif, one of the jewels of the Var department, chestnut trees and hundred-year-old cork oaks reign as masters and in its heart, a few villages live peacefully.
We will ride through the beautiful marina of Port-Grimaud and a few kilometer after we will be in Grimaud, a perched Provencal village overlooking the Gulf of Saint-Tropez. With its charming squares and alleys, Grimaud invites you to stroll.
At the end, the road of the peaks of the Maures massif, offers us a little further away breathtaking panoramas. Picturesque and on a mountainside, riding to the Canadel Pass and then back down to the sea by a winding road is a pure joy.
Route 1 : 69 km / 1100 m D+
Route 2 : 82 km /  1270 m D+
Night in Rayol
Meals included:  Breakfast – Lunch – Dinner
DAY 4 - Bormes-les-Mimosas Loop
We ride along the Corniche des Maures for about fifteen kilometres and then join the Route des Vins de La Londe and the famous Fort de Bregançon before getting to the old village of Bormes-les-Mimosas, which lies on a hillside between the sea and the forest. Its alleys, which smell of plants from diverse and distant origins, are hidden by the pink tiled roofs of the old houses. 
Domaine du Rayol, one of the most beautiful botanical gardens in France, located on the foothills of the Massif des Maures, is waiting for you this afternoon to discover its superb layered gardens.
Route 1 : 44 km / 710 m D+
Route 2 : 67 km /  910 m D+
Night in Rayol
Meals included:  Breakfast – Lunch – Dinner
DAY 5 - Sainte-Baume - Cassis
We start the ride biking the grandiose Massif de la Sainte-Baume, a steep massif that shelters a millenary forest in which we evolve up to the Col de l'Espigoulier. From here, a breathtaking view reveals Marseille. Just after, it is with a smile on our faces that we start the descent where natural environment and hairpin bends make us live a magical moment.
After crossing Gémenos, the road rises a few more kilometres before diving into La Ciotat where we climb the Route des Crêtes on the 13 km that separate La Ciotat from Cassis. It is undeniably one of the most beautiful roads in France. Very steep in places, the road climbs up to Cap Canaille and offers us vertiginous panoramic views overlooking the Mediterranean and the bay of Cassis with the Calanques in the background.
We finally reach Cassis where it is around the port, on which narrow shopping streets open, that life is concentrated. Many beaches are easily accessible and should not leave you insensitive, as the setting is so enchanting.
Route 1 : 61 km / 900 m D+
Route 2: 82 km / 1400 m D+
Night in Cassis
Meals included:  Breakfast – Lunch – Dinner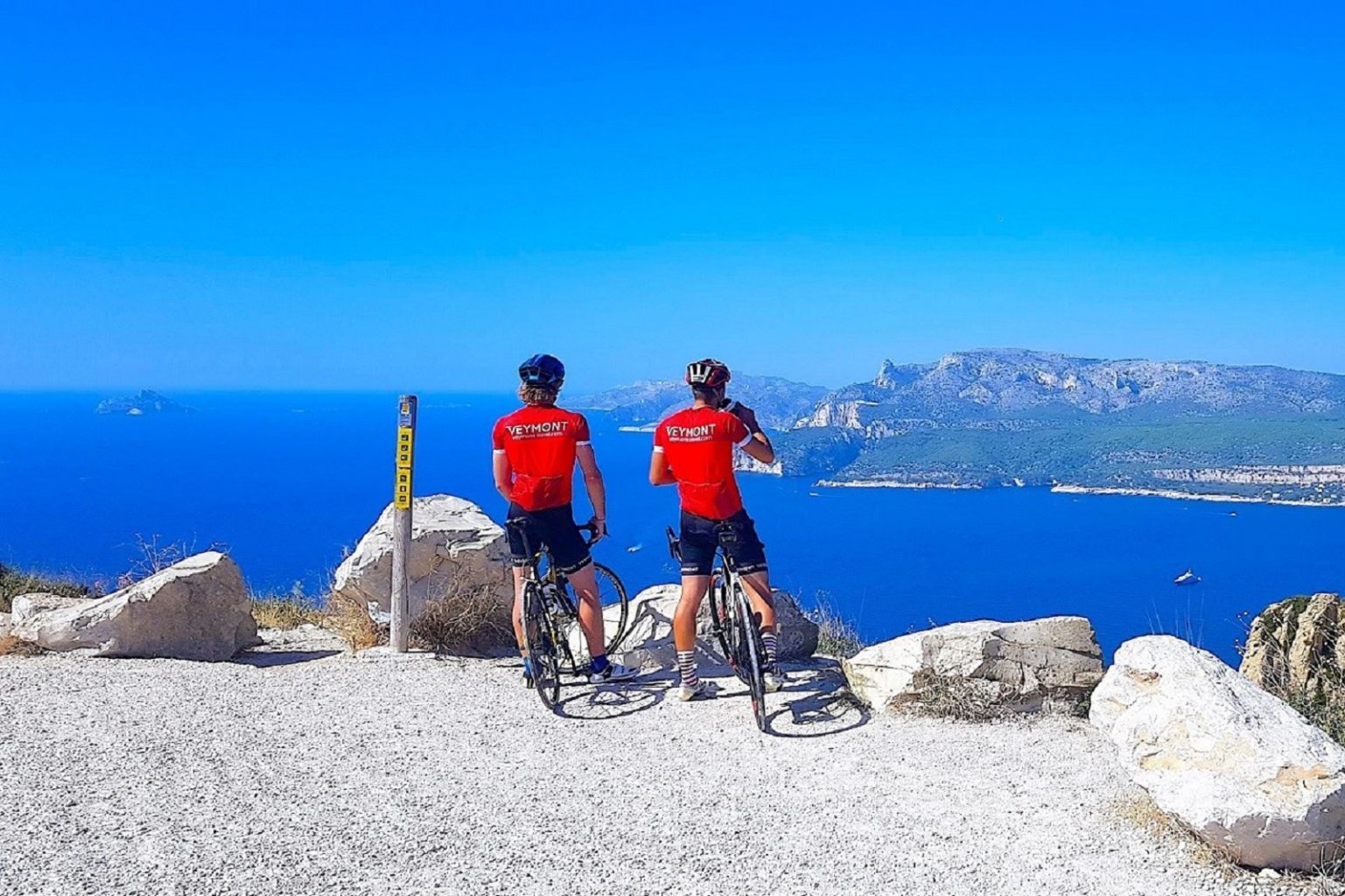 We have prepared a special program for you today. This morning we leave aside our traditional bikes to ride electric mountain bikes and go exploring the Calanque d'En Vau under the best conditions. En-Vau is the most beautiful and remote of the Calanques . It takes us about 1h15 to find this paradisiacal place. In the heart of a deep and narrow cove, steep limestone cliffs plunge into a small pebble beach nestled at the bottom of the cove, offering a sea with clear and turquoise waters. we take our time and enjoy these wonderful moments
Night in Cassis
Meals included:  Breakfast – Lunch – Dinner
Day 7 - Day Off in Marseille
This morning we will take you to Marseille where we will spend the day and evening. Let's explore this exceptional city which would have enough to keep us on our toes for several days. Its seafront and monumental heritage bear witness to a 2600-year history. More than ever, this immense city is an essential cultural place for anyone interested in Provence and the Mediterranean.
Night in Marseille
Meals included:  Breakfast – Dinner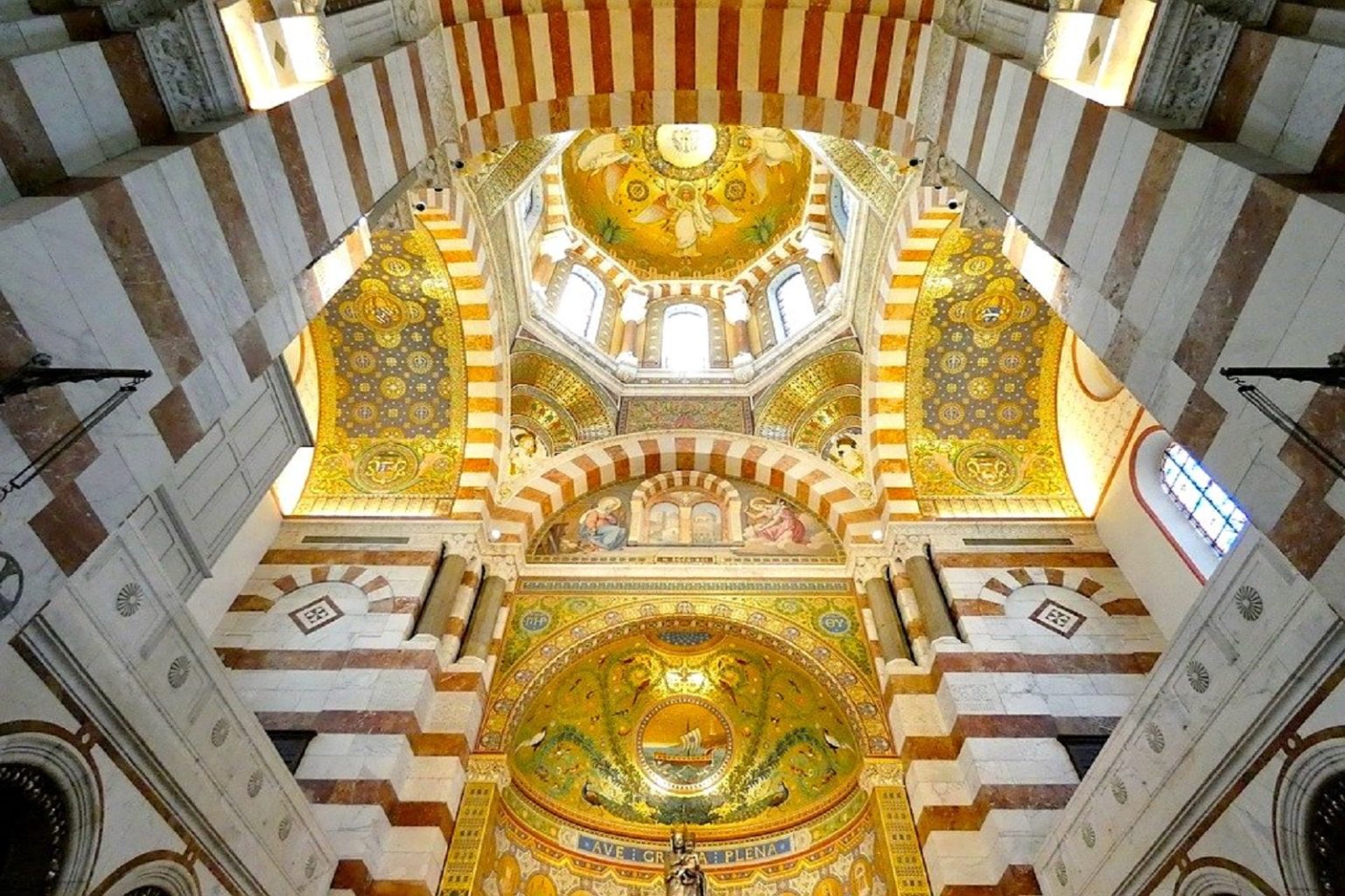 It is unfortunately already time to say goodbye. We will take you back to Marseille-Provence airport after breakfast to end this French Riviera bike tour between Saint-Tropez & Cassis Creeks, unless you want to extend your stay in Marseille and continue your biking holidays in Provence with Veymont.
Meal included: Breakfast